The art of choosing and preparing food varies from one community to another. Most of the food choices that communities make are dependent on the availability of home grown food crops. The food choices that people make have a significant impact on people's nutritional behavior, hence it affects their lives whether positive or negative.
From Rio to Shanghai, farming communities have golden opportunities and capabilities to produce the foods that they need to live healthy lives. The only barrier that they may face is access to information about the right food choices and preparation methods. This lack of know-how continues to affect the lives of poor and rural communities across the world, especially in the sub-Saharan Africa, where it manifests in high levels of malnutrition and micronutrient deficiency.
According to Rwanda's Comprehensive Food Security and Vulnerability Analysis (CFSVA) report, produced by Rwanda's Ministry of Agriculture (MINAGRI) and the World Food Program (WFP), rural areas are the most affected by child malnutrition at a rate of 40 percent, compared to 27 percent in urban areas.
One of the most affected district is Bugesera where communities are being assisted by the project to improve their nutrition uptake, incorporating orange-fleshed sweetpotatoes into their diets, using locally grown food crops.
With the support of the United states Agency for International Development (USAID), the International Potato Center (CIP), along with local development partners, are among key players addressing malnutrition in ten rural districts using the vitamin A-rich orange-fleshed sweetpotato (OFSP), among them Busegera district.
"It's amazing, to see how our rural farmers can now prepare their own foods into nutritious meals that help infants and young babies to grow up healthy," says Emile Mukunzi, the director of Agriculture for Bugesera district during a nutrition awareness and cooking demonstration held in Kamabuye sector on Friday 5th May 2017.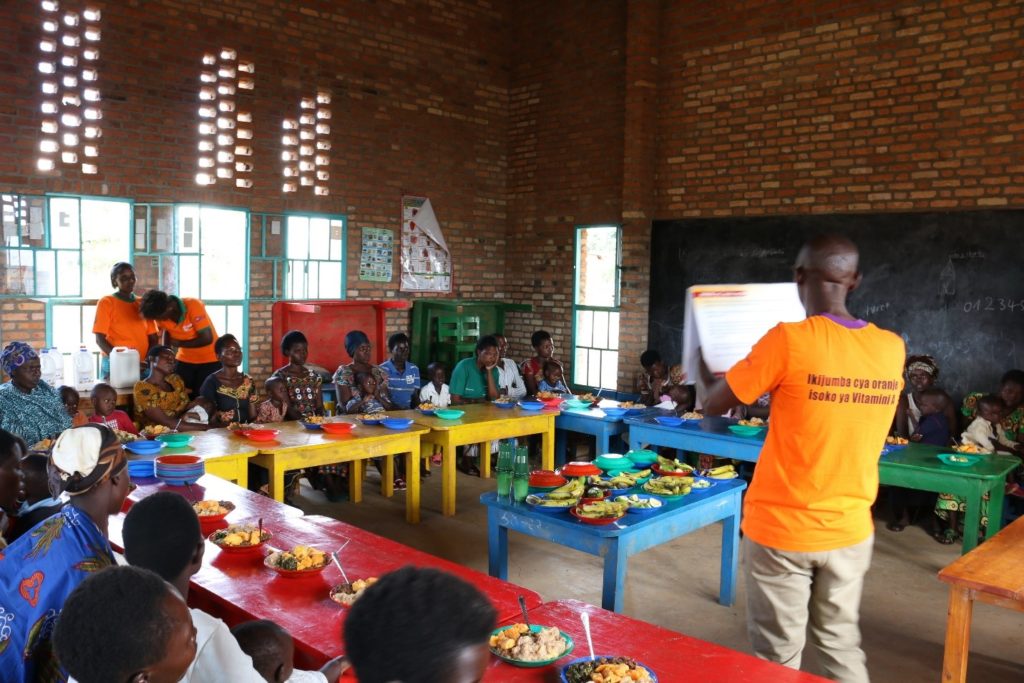 Nutrition outreaches and cooking demonstrations are part of numerous approaches being used by CIP and implementing partners. Mothers and care givers in rural communities are brought together as a group to learn how to prepare and feed balanced diets to their families. The focus of these activities is on children under the age of five years, breast feeding and lactating mothers.
With rigorous and continued efforts of different development and health actors in Rwanda, the levels of stunting among children aged under 5 dropped to 36.7 percent in 2015, down from 43 percent at the time of the last analysis in 2012. Among the assured ways recommended to minimize this life-threatening problem is, the consumption of staple biofortified foods, containing the necessary nutrients such as iron beans, orange-fleshed sweetpotatoes among others.